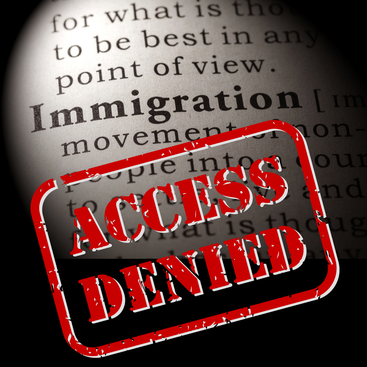 Discriminatory Migration System
Australia's immigration system is unjust and discriminates against disabled people, frequently excluding them from living here permanently.
When people apply to come to Australia they are required to undergo health checks.  People have to demonstrate that granting them a visa won't "result in a significant cost to the community or prevent Australian citizens from accessing healthcare or community services in short supply."
In 2010, the Parliamentary Joint Standing Committee on Migration considered all of this, reviewing how disability is treated in our migration system and found that "the current health requirement reflects old-fashioned approaches to disability in particular and so unfairly discriminates against those who have a disability."
The Committee made 18 recommendations regarding a fairer approach to migration and disability in Australia.
Two years later in 2012 the Australian Government responded to the report with some welcome changes, such as for refugees and asylum seekers with disability who were rightly excluded from health requirements because their impairments were mainly due to experiences of conflict, torture and displacement.
However, the remainder and most of the Committee's recommendations have not been actioned 10 years later.
Too Costly
Australia's immigration health requirement prevents any prospective migrant with an illness, disease or intellectual or physical disability from obtaining a visa if it is deemed their condition will be too costly or put the general public at risk.
People applying for a visa or permanent residency must be free from disabilities or illnesses which "would likely require health care or community services" costing more than $49,000 over 10 years, or for the duration of their stay when applying for temporary visas.
Let's face it, the threshold is ludicrous – an able bodied child would cost Australian taxpayers more than $49,000 over 10 years.
The requirement unfairly targets people with a disability because how much a person would "cost" is calculated hypothetically.
It doesn't take into account whether support services will actually be used, the applicant or their family's ability to contribute financially to their care, or their social and economic contribution to the wider community.
Human Rights
Apart from being discriminatory, the current immigration system is also a human rights issue.
Migration health requirements need to be made subject to the Disability Discrimination Act, from which they are currently exempt.
Last year the UN Report on Australia's Review of the Convention on the Rights of Persons with Disability recommended that Australia "review and amend migration laws and policies to ensure persons with disabilities do not face discrimination in any of the formalities and procedures relating to migration and asylum, especially remove the exemption in the Disability Discrimination Act 1992 to certain provisions of the Migration Act."
The current and inequitable system says that we, as Australians, can see no other role for disabled people other than as cost burdens.
Awareness
People are being refused Australian visas simply because they have a disability or health issue. This can happen even when they are not eligible to access any Australian health or community services.
A campaign has begun to increase public awareness of the plight faced by people with an impairment seeking to come to Australia.
The Welcoming Disability  campaign is calling for reform of Australia's migration health laws and their effect on people with disabilities.
You can get involved in this important campaign and support a fair go for migrants with a disability.